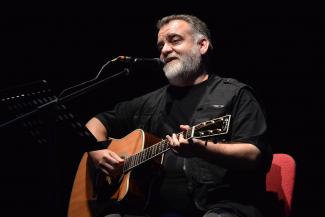 Alexandru Andrieș is a blues / jazz / folk singer, architect, writer, poet, translator, painter and graphic artist and a symbol of an entire generation. He graduated the Ion Mincu Institute of Architecture in 1980, where he had been a doctoral associate professor for 40 years.
He is a member of The Union of Architects in Romania since 1980, The Writers' Union of Romania since 1994, of The Union of Romanian Composers and Musicologists since 1994, The Association of Journalists in Romania and other committees.
He had his solo debut in 1974 in the "A" Club  and on the stage in 1979 at Brașov Jazz & Rock Festival, with the band Basorelief. His first album, Interiors was released in 1984 by Electrecord. Throughout his long list of albums he played with: voice, guitar, piano, music, electronic percussion, etc.
He became a remarcable presence on every stage in the country, especially because of the message of his music. He is the author and producer of over 80 recordings and has performed over 4,000 concerts throughout the country.