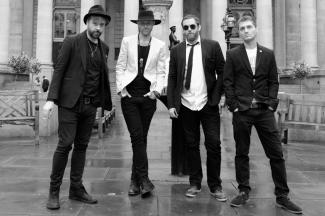 United Kingdom
London 56273
The worlds coolest blues band are here!
The Bad Day Blues Band break down genre barriers by fusing modern popular music with blues and rock. Having played major music festivals, including the legendary Isle of Wight Festival in 2018 and 2019, they have received airplay from major radio stations such as BBC Radio (UK) and Radio Rock (Brazil), the band continue to capture the public's imagination offering music which is genuinely new and exciting.
Their blues chart hit singles include the critically acclaimed 'Hurricane' which captured the blues scenes imagination upon release in 2019. Bad Day Blues Band have played on prestigious stages as Sony Hall (NYC), Black Deer Festival, The 100 Club, PennFest, The Robin Theatre, The Hard Rock
Cafe, The Isle of Wight Festival and many, many more.
They have supported many award winning artists such as The Killers, The Manic Street Preachers, The Kaiser Chiefs, Delbert McClinton.
'The Abbey Road Session' received critical acclaim upon it's release in 2018. BBC Radio 2, BBC Radio Lancashire and Blues and Roots Radio all got onboard and pushed the record to the top of the blues charts in the UK. Their follow up single equally smashed it's way through the blues world 'Hurricane' was again played by major stations across the UK and also embraced by some of the biggest radio stations in Brazil and Uruguay.
The group's other hits include; Late Night Sister (UK itunes chart number 1) and Hoochie Coochie Man (UK Blues chart number 1). BDBB are proud to work in partnership with several internationally renowned musical companies Orange, Warwick, Ernie Ball, Seydel, Crom, Gamma and Wild custom guitar. Adam Rigg was featured as Orange amps 'Voice of the blues' in June 2019.
BDBB have featured in interviews in many international magazines such as: Bassplayer Magazine, Blues in Britain, Blues Matters, Bass Guitar Magazine.