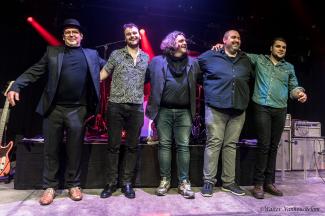 The BluesBones are a blues-rock band that has been making waves in the international music scene since their formation in 2011. With a sound that is rooted in the blues but incorporates elements of rock, soul, and funk, the band has developed a devoted following and earned critical acclaim for their powerful live performances and well-crafted albums.
Their most recent album, "Unchained," released in April 2023, has already made a significant impact on the blues charts.
Nr.1 IBBA Blues Charts Top 40 UK 2023
Nr.3 Blues/Rock Charts Top 50 USA 2023
This achievement demonstrates the band's continued growth and artistic development.The BluesBones have a strong track record when it comes to chart success. 3 times Nr.1 in Blues Charts UK .
Nr.2 IBBA Blues Charts Top 40 UK 2016
Nr.1 IBBA Blues Charts Top 40 UK 2018
Nr.1 IBBA Blues Charts Top 40 UK 2020
Nr.1 Blues/Rock Charts Top 50 USA 2020
In between they won their national Blues Challenge in 2016 and became 2nd on European Blues Challenge 2017 in Denmark
Overall, The BluesBones have established themselves as one of the most exciting and innovative blues-rock bands on the international stage and played over 500 shows. Their ability to consistently deliver high-quality music and electrifying live performances has earned them a dedicated fanbase and critical recognition across multiple continents. With each new release, they continue to push the boundaries of the genre and redefine what it means to be a blues-rock band in the 21st century.
This is one of the most successful bands from the European continent competing with well known Blues names in their own countries Blues Charts.