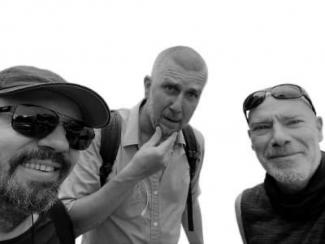 A blues project started by an American drummer of Romanian origin - Liviu Pop. A dynamic trio with a mostly classical blues and soul setlist, but also a journey into jazz, funk and rock, woven into their sound and vibe.
The experience gathered by Liviu Pop in the US, working with artists such as Hubert Sumlin, Sam Lay, Lucky Peterson, Debbie Davies, Lil' Dave Thompson, Toni Lynn Washington, Bruce Katz, Studebaker John, Ruben Wilson, Mighty Sam McClain, Chris Tofield, Murali Coryell, Slam Allen, Kal David and many more, accounts for the distinctive groove of this extraordinary drummer!
Hanno Hoefer is the group's guitarist and vocalist, bringing an organic performing style, gained via his careful study of the blues. His guitar also ventures outside the blues realm, adding character to the trio's music. Hanno is also part of the renowned group Nightlosers, that's been playing far and wide around the world.
The trio's uniqueness is granted by the unmistakable Hammond organ sound. The skillful, dynamic, and sensitive way that Raul Kusak masters this complex instrument just adds to the special experience that is BluesCore.