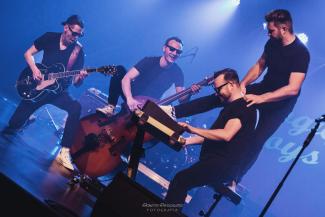 Since its inception dated back to 2002 they visited almost all countries in Europe and some on other continents. In their achievements they have already three studio albums and the concerts they play are great success wherever they go. They toured alongside many stars (as a support or back-up band) such as: Shakin' Stevens, Ray Manzarek (The Doors), Eric Burdon (The Animals), Chris Barber, Phil Guy, Studebaker John, James Harman, Rod Piazza, Big Bill Morgenfield, John Clifton, Mike Sanchez, Ana Popovic and many more.
In February 2009 as the only team from outside the United States Boogie Boys were finalists of the greatest blues competition in the world "International Blues Challenge - Memphis, USA". After this success there came another one: in July 2009 they released album "HEY YOU!" and then during a tour in Canada
they played concerts at major festivals: "Montreal Jazz Festival", "MontTremblant Blues Festival" and "Quebec City Music Festival". In 2010 they played on a tour in California - USA, and in a "Blues TOP" survey they were chosen a "Band of the Year". Team leader Bart Szopiński (ten times in a raw) and also other group members have repeatedly been awarded in "Twój Blues" magazine poll as "The Pianist of the Year" and "Instrumentalist of the Year". In 2011 they represented Poland at the 1st European Blues Challenge in Berlin and they were qualified to the "Top 3". They also played at Scandinavian great and famous "Nottoden Blues Festival'. In 2012, they were once again awarded as "Band of the Year" in "BLUES TOP 2011" survey. Their latest album "Made in Cali" was entirely produced in the USA together with the fantastic guests (such as guitarist Ron Thompson who worked with such stars as John Lee Hooker, Etta James, Tina Turner). Music producer of the album was John Clifton, recognized harmonica player, composer and singer. In 2013 the album was announced to be "The Album of the Year" in "BLUES TOP 2012" poll. At the beginning of 2014 they are starting nearly two-month tour of Australia, New Zealand and the Pacific Islands.