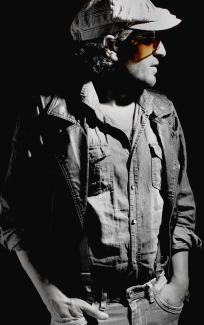 CANAF is THE FIRST GYPSY BLUES SINGER in Eastern Europe. Winner of the Sibiu Jazz Festival Grand Prize, he took part in many relavant European festivals, such as: World Music Festival Fivizzano Italy, Miscolk Festival Hungary, Focsani Blues Festival, Open Air Blues Festival Brezoi, Gărâna Jazz Festival, Panonic Festival Poland 2022, Valby Kulturhus Festival Copenhagen 2022...
"The virgin soul of the Blues" is the name of his first 100% live album, launched at Hard Rock Cafe in 2016 and followed by the 2018 record "ENDLESS.BLUES". While working on his third, he simultaneously devoted this year to the extended European Tour co-headlined by the renowned Fanfare Ciocârlia.
His songs are featured on hit albums such as Onward to Mars (2019) and "It Wasn't hard to love you", recently awarded in the BBC Songline Music Award 2022.