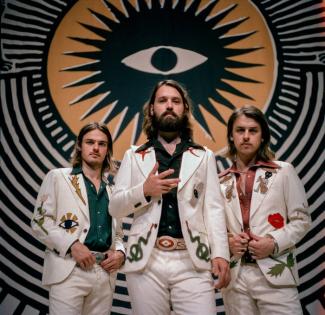 DEWOLFF - PSYCHEDELIC SOUTHERN BLUESROCK
DeWolff are a young Hammond/guitar/drums three-piece from The Netherlands making an explosive mix of electrified
southern bluesrock with a dash of soul and psychedelica. They are some of the meanest, energetic, road-hardened and
virtuosic musicians around and have been playing together for half their lives. Now, still in their mid twenties, they have
already released 9 studio albums (7 of which hit the Dutch Top 20), 3 live albums, 2 EP's and even recorded an album with
Black Keys-producer Mark Neill. Furthermore they have their own fully analog studio where they not only produce their
own but also produced many other critically acclaimed albums, and which has already become a cornerstone in the new
chapter of Dutch roots-rock history. Even Luther Dickinson regularly comes over to record some songs together.
They have already played over a 1000 shows in Europe, Australia, Indonesia and Russia and since 3 years they even
organise their own festival 'DeWolffest'. In 2019 the band picked up the prestigious Edison Award (Dutch Grammy) for
'Best Rock' and in 2020 they received a Buma Award for "Best Sync". Their last tour saw the band play over a 100 shows
across 13 countries – The Netherlands, Switzerland, France, Spain, Germany, Belgium, Lithuania, Italy, Denmark, United
Kingdom, Czech Republic, Austria and their first trip to Indonesia!
They also toured with the likes of Toto, The Black Crowes, The Black Keys, Deep Purple, Ten Years After and Wolfmother
and picked up fans in e.g. Seasick Steve, who once woke up backstage at a festival to hear them play, thinking he heard the
Allman Brothers playing from 1972, and Roger Glover who has openly declared his love for the band.
Even though they're already blasting for more than a decade, these guys are just starting...
WEB
www.dewolff.nu
www.facebook.com/dewolfficial
www.instagram.com/dewolfficial
www.twitter.com/dewolffmusic
BULLETPOINTS
- Latest album "Death, Love & In Between" out on FEB 3, 2023 on Mascot Records. #1 at Dutch Album Top100!
- Support for TOTO on their European tour (July 2022)
- Support for THE BLACK CROWES on their European tour (October 2022)
- Won an Edison (Dutch Grammy) for 'Best Rock' (2019)
- Won a Buma Award for 'Best Sync' (2020)
- Other international bands (e.g. North Mississippi Allstars, Wolfmother and Altin Gun) regularly drop by in the band's
studio to hangout and record songs together
- Recorded an album with Mark Neill
- Played over 1000 live shows
- Played festivals like Pinkpop, Lowlands, Eurosonic Noorderslag, Down The Rabbit Hole, Best Kept Secret, Zwarte Cross,
Paaspop, Sziget (HUN), Reeperbahn (DE), Rockpalast (DE), Transmusicales (FR), Azkena (ES), Arezzo Wave (IT), ILMC (UK)
and many others.
- Did several sold out European headline tours in the past years