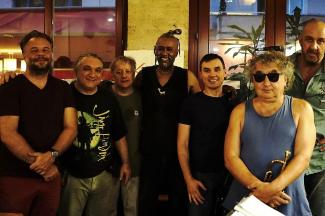 Halper-Hendrix Experiment, founded by László Halper in 2013, performs jazz adaptations of Jimi Hendrix's compositions. The band is based on Halper's former group Band of Gypsys Reincarnation that published its first CD in 2010 also featuring the world-famous Randy Brecker on trumpet.
In 2012, BoGR gave a monumental and succesful concert in commemoration of Jimi Hendrix's 70th birthday at Palace of Arts of Budapest (MÜPA) featuring one of the world's most renowned rhythm sections: Steve Gadd on drums and Eddie Gomez on double bass. Recordings of the concert were published on CD called Electric Angelland on Jimi Hendrix's birthday in 2013.
Since 2013, Halper-Hendrix Experiment have been regulary giving concerts at different clubs and festivals. In October 2016, the band returned onto the stage of MÜPA featuring the internationally renowned cimbalom artist Kálmán Balogh and the world-famous jazz trumpeter Randy Brecker.
In 2017, the band celebrated Jimi Hendrix' 75th birthday supplemented with legendary musicians of the Hungarian music scene like Gyula Babos, Béla Szakcsi Lakatos, Imre Kőszegi, Tibor Tátrai, János Solti and Ádám Török.
Hailed as 'Mr. Blues of Romania' by the critics and 'a charismatic guitarist of the highest class' by B.B. King, A.G. Weinberger is the only blues and jazz artist in Romania selected for nomination at 7 Grammy Awards, honored with the Cultural Merit Order in rank of Knight. He continues his mission tireless, full of passion and faith in promoting good musical taste in romanian cultural life.
One cannot speak of blues, jazz or rock in Romania without the exceptional musician A.G. Weinberger. 
A.G. Weinberger is one of the dearest friends of the Open Air Blues Festival Brezoi and the author of the expression 'Brezoiul Lumii' which defines the beautiful community that formed around this festival.