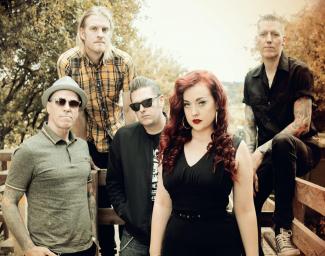 The Hawkmen draw from an array of influences such as rhythm'n'blues, soul, and rock'n'roll which they bring together in a classic, rootsy, hybrid blend. The band emerged as a full, live act in 2017 following the early successes of soul 45 and Craig Charles favourite, Don't Judge A Book By Its Cover (Record Kicks), a northern soul remix of Emma Beatson's debut single Do It (selected by Craig Charles for the second volume of his Freestyle Records compilation series) and The Hawkmen's blazing Keep On Working EP (Mocambo) which yielded another 45 and was widely played on BBC Radio 2 and Radio 6. In 2017 Love Is Blind was released and features on the Craig Charles Funk and Soul Club Vol.5 compilation and received more BBC 6 Music airplay. 2018 got of to a flying start with the release of the Chemistry Of Love single, yet more plays on BBC 6 Music, leading to a mini UK tour and concerts in Germany and France.
The Hawkmen – Love Is Blind
Trailblazing the 'hotrod'n'soul' sound, electrifying live outfit The Hawkmen clearly see their way to a new single in the form of smouldering, dance-floor groover Love Is Blind. It's the first cut to be taken from the band's as-yet-unnamed debut LP and finds the fresh-faced outfit blend heavy soul bass, surf guitar licks and vintage rhythm and blues vocals to spin that ages-old tale of 'man's ruin' – the femme fatale. Man, you should have known from the start that she was trouble! Just as well the flip is the raucous romp n stomp of The Frathouse so you can jitterbug those sorrows away…
Laura Seija & The Hawkmen – Keep On Working EP
Seeking musical solace? Relax – you'll find it in the sound of The Hawkmen! The core of the band includes bassist Scott Milsom, guitarist Tom Kuras and the vocal talents of Laura Seija. Their debut, the Keep On Working EP, delivers a melting pot of fifties and early sixties musical influences that nods to original r'n'b, doo-wop and rockabilly which all comes together in a rootsy hybrid blend of classic rock n soul. Written, recorded and produced by the band in the Dog House Music Studio, Bristol, the analogue warmth just keeps on working whether it be on the garage-soul of the title track, the country-soul-doo-wop of Did I Tell You Today, the boogie-wop of Sugar Daddy or a reworked, double-bass-powered version of Craig Charles' northern soul favourite, Don't Judge A Book By It's Cover.
Emma Beatson & The Hawkmen – "Do It"
Starting off as a Mako & The Hawk remix project, The Hawkmen have completely reworked the tune with live instruments. Featuring the Babyhead brass section, the band have created an up-tempo soul classic. The track features on the Craig Charles Soul & Funk Club 2 compilation album on Freestyle Records.
The Hawk featuring Little Hannah Collins
Having previously garnered airplay with gorgeously ethereal debut single Candy Dream Dub on Rob Da Banks' BBC Radio 1 show, Nerm spinning the B-side Puppets on the BBC Asian Network and none other than Steve Lamacq dropping the skankin' breaks of last single Run Rudeboy, The Hawk (a.k.a. Scott Milsom, bassist for critically-acclaimed UK funk heroes Big Boss Man) has teamed up with Little Hannah Collins (former player/vocalist with The Heavy), who after a live show at a Playboy Party as part of SXSW in the USA, was described as a "Soulful Vixen" in a 2 page Playboy Magazine feature.
Influenced by music genres including northern soul, motown and rare groove, the vision of The Hawk featuring Little Hannah Collins, is to create soulful pop music for the new decade and beyond…