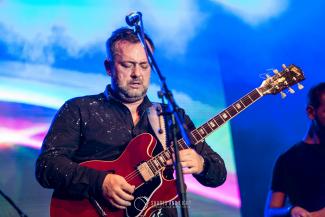 Joe Rusi began playing violin and piano when he was six years old, guitar when he was ten and became a professional musician age fifteen. He has been a very active musician in blues and jazz clubs and festival stages in Norway since the late 90's and has also toured abroad (eg. US and Canada tour in 2010 and 2012). He worked as the principal of Lund Arts School and since 2016 and leads the music section at Lundheim Folkehøyskole. Since 2013 Rusi has been radio host on Radio Kvinesdal with "Blues with Rusi".
Joe has been awarded the prestigious "Celebrity Scholarship" Berklee Collage of Music and received Masters Certificate in Songwriting and Guitar (from a panel including Steve Vai, Paul Simon, Herbie Hancock and Mark Mothersbaugh).
Joe Rusi' album Who I Am (BIGHCD1502) released by Big H Records  recorded in New Orleans with legends like Johnny Vidacovich (drums), John Papa Gros (piano), James Singleton, Doug Belote and George Porter Jr. (bass, theMeters) in the backing. Arne Skage Jr. (Reidar Larsen and Rita Eriksen) is the producer and the recording took place in the Music Shed studios, in New Orleans . 
   
The album was nominated to the Norwegian Grammys (Spellemannprisen) and stood on the iTunes top lists.
2017- New album, recorded in New Orleans, with the same cast, plus legendary percussionist Cyril Neville. The single and title track on the album "À Tout le MondeFrom New Orleans" also features Reidar Larsen on keys. The whole album bubbles and boils off New Orleans R&B. The mood from the debut album has continued and the musical "gumbo" tastes even better, with the album geting attention of the blues radio stations around the world, great reviews, fallowed by many live concerts.
'Rusi has a cool voice, and the album is crammed with fine and sweet sounding guitar breaks' – Dagbladet.
'I was impressed by this album which combines some thoughtful songs with New Orleans flavors' -  Blues Blast Magazine
'There is no doubt that Rusi is a connoisseur of both the myths and music. "Who I Am" emerges as a heartfelt and well played album, with delicate guitar playing of Rusi' - Hamar Arbeiderblad
'This is blues at its best unpolished and unvarnished, true and honest and with a just the right rough touch. When Joe Rusi adds riffs into all this and pushes air with its powerful and fit raw voice, he gets you back to the roots of blues. " - Farsund Avis
'The Joy that spills over the audience, brilliant musician.' - The River City Blues Club, Drammen
'Joe Rusi - haunting tunes and guitar work, soulful singing.' - Dan Bowden (Electric Blues Guitar Workout)
'Joe Rusi's guitar playing is simply great.' - Rick Peckham (Assistant Chair of theGuitar Department, Berklee College of Music)