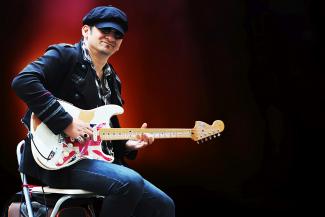 John Montana is a Manchester UK based guitarist, singer, songwriter and producer, versed in a wide range of musical genres, from traditional blues, rock and soul to contemporary funk and fusion.
A high energy, blues rock guitar virtuoso, who never fails to connect with his audience, no matter how big or small. On his mission to 'move' the listener, John always aims to deliver his music with a new, fresh approach. 
With a life long musical career there is not much on the music scene that John hasn't done. Touring with rock bands, playing with big band orchestras, backing broadway-style production shows, countless session work and hundreds of studio recording hours. He travelled and played his music around the world from Europe to New York and all the way to Sydney, he performed for Royal Family receptions and White House cocktail parties, but he could also be seen busking the streets of Manchester.
Along his musical journey, John was fortunate to work, record or share the stage with many great artists such as Jimmy 'Jaymz' Denning (Tenors of Rock), Andrew Bourne (Jack Pack), Bjarne Kjaer (Victor Wooten, The Wailers), David Pastorius (Pat Travers, Carl Palmer), Roberto Ruiz (The Animals), Robben Ford, Eric Gales, to name but a few.
In 2012 John settled in Manchester, UK, where he started The John Montana Trio approaching a style that could be described as 'Electric Blues Rock with a dash of funk and a hint of soul'. The trio has always been a part of Manchester's vibrant music scene playing with many different bands and artists. His work has seen him play numerous gigs and festivals across the UK, in venues such as the world-famous Cavern Club.