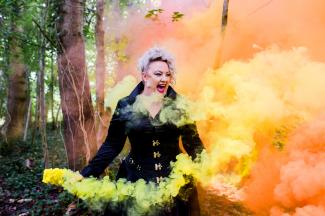 Sam York - Piano / Hammond
The story of Kaz Hawkins has many wondering how she ever survived the trauma in her life but she puts it best herself saying 'Music is the very thing that saved me, when I sing I am in the safest place on earth. It replaces all the cruelty, shame and pain in my life so all I want to do now is sing for those still fighting'.
Kaz Hawkins has wowed fans with her emotional honest performances across the globe with her music bringing an honest, fun, inspiring & hopeful message to those who need it.
Using her story in song to break barriers in mental health, hers is a spectacular story of survival never mind a voice that has reduced grown men to tears at her shows. It took Kaz Hawkins 20 years to follow her childhood dream and now she is living every minute by creating a legacy of persistence, empowerment and true grit!
Kaz's music is an achievement but she gives credit to her fans for allowing her into their musical hearts. This is the ultimate story of the Phoenix rising from the ashes.
An activist for Mental Health, Kaz Hawkins has worked tirelessly for different charities over the years. She has been an official Ambassador at Aware NI, Northern Ireland's Depression Charity and has completed library tours, given talks at Boston University, Florence Academy of Fine Arts in Alabama in special sessions where she told her life story using words and song to show how music can be used as a mental health tool. Kaz also visited prisons and schools in Beauvais, France at the invite of Le Blues Autour Du Zinc Festival. Fans have come to love the many hats that Kaz wears, especially presenting her own radio show 'Kaz Hawkins Got The Blues' on BBC Radio Ulster when she isn't touring.
Always supporting the UK blues scene that has given her so much, Kaz Hawkins accepted an honorary
membership of the UK Blues Federation & has represented United Kingdom in the European Blues Challenge of 2017 where the UK won for the first time.
Kaz Hawkins took the year of 2018 in duo format touring My Life And I show which is a piano/vocal theatre show with Sam York. With rave reviews on her deciding to use the show to highlight mental health issues, she sold out most dates in the UK & Europe. With a new confidence, Kaz has decided to return to band format.
2020 will see Kaz Hawkins & her Band of Men return to touring internationally with a new collective of musicians from Europe & the UK in a quintet form.