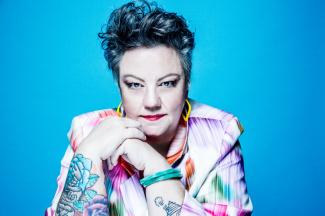 Cédric Le Goff - Piano / Hammond
Guillaume Séne - Saxophone
Benoît Gaudiche - Trumpet
Geoffroy De Schuyter - Trombone
When she sings, Kaz Hawkins takes us into her vast and colourful universe, simple words express the strong emotions she writes about in an artistic universe that matches her endearing and free personality.
Kaz Hawkins has never made a secret of her painful past, but her story has become her strength in writing soulful lyrics and singing with a rare sincerity and intensity. Performing other people's music for 20 years, Kaz discovered her talent as a songwriter in poems she had written in secret. These poems then became lyrics when she began to put the melodies she had in her mind in her own words.
Known mostly for her ballads like "Because You Love Me" and "Lipstick and Cocaine" (later renamed "One More Fight") or "Surviving" these songs were born and immediately found their audience. An eclectic audience: young, old, male, female, English-speaking and non-English-speaking... Everyone is affected by these songs, which are the trademark of this unique Irish artist. Kaz's world is also made of great blues and soul references, guitar riffs and iconic performances on stage but she is at the heart a story teller giving hope. Nicknamed 'Mama Kaz Hawkins' by her hardcore fans, it is a great honour that Kaz carries because she wants to give each and every fan the chance to share in her journey of music, up close and personal. Quirky, eccentric and loveable, Kaz Hawkins is a fighter and those who become her fans are never disappointed.
Looking forward to seeing you all in 2024.