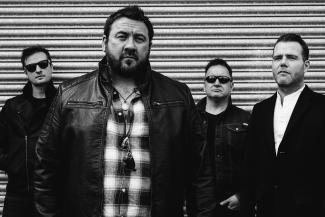 Alan Nimmo - Vocals/Guitar
Zander Greenshields - Bass
Glasgow rockers saluted as 'the best blues-rock band in the world' (Blues Rock Review), King King is a British blues rock group, formed in 2008. The band has released four studio albums and one live album to date. 
At the 2014 British Blues Awards, King King won five awards including The Best Band and Best Album Awards. 
The following year, 2015, King King's third studio album, Reaching for the Light was released. The band again won several awards including Best British Blues Album of 2016 for this album and was nominated for the Best New Band award in the Classic Rock Roll of Honour.
King King's fourth studio album, Exile & Grace was released in October 2017. It was mixed by Chris Sheldon, who had previously worked with The Foo Fighters, Feeder and Therapy? It reached number 31 in the UK Albums Chart and No. 1 in The Amazon Blues Chart and The Official Jazz / Blues Chart. It was also awarded the No. 1 Blues Album of 2017 by Classic Rock magazine.  
The UK tour to promote the album was put back from October 2017 to January 2018. On this tour the band played at the largest venues as a headline act, including the Shepherd's Bush Empire in London. In September 2018, King King toured in UK, Ireland and Europe as guest band of the Swedish rock band, Europe. The tour included the Royal Albert Hall in London. King King finished the year by winning Best Band at the European Blues Awards.