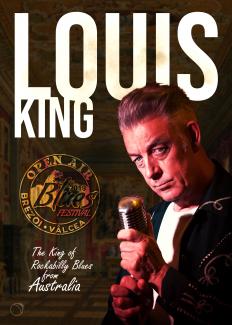 Louis King 'The King of the Rockabilly Blues'
Louis has been at the top of the Roots music scene in Australia since their first CD was released in 1996 .
His Original mix of blues, Rock'n'roll and Rockabilly songwriting style has been noted worldwide by luminaries, such as Billy Pennell, T.V Weeks Jeff Jenkins, the U.S Blues Bible "Blues Review ", as well as Rolling Stone magazine.
He has toured all over Australia, including all the major festivals such as the East Coast Festival in Byron Bay 5 times, as well as Bridgetown Cairns and Broadbeach Blues festivals.
He has also toured Europe 5 times, performing at the Great British Blues Festival, Kwadedamme Blues Festival In the Netherlands and The Screamin' Festival In Spain. 2017 saw him perform in The U.S.A. at the prestigious Viva Las Vegas festival.
Louis's songs Have been covered by Artists Including New Orleans favourite son Rockin' Doopsie Junior, The Flattrackers and even Doug Mulray and also been included in the soundtrack of a Hollywood movie as well as the Australian T.V shows Packed to the Rafters and Underbelly.
The band has been the featured support act for B.B King, Buddy Guy, Jimmie Vaughan and Screamin' J Hawkins to name a few .
His music is a dangerous mix of Blues and Rockabilly songwriting with a stage act that is a mixture of an Outback roadhouse and a Glasgow Pub Dance.