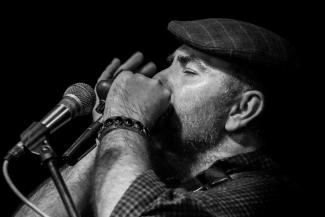 Marcian Petrescu is currently hailed as the BEST harmonica blues player in Romania, with a sound and stage presence at the same level as his USA counterparts.
He is also a vocalist, songwriter, composer, music teacher, harmonica repairman, blues radio producer and creator of a special sound system dedicated to harmonica amplification, unique worldwide at the moment.
He is the only romainian musician of blues who has succeeded the performance of having invited on his studio albums two legendary american blues musicians, Sugar Blue and Charlie Musselwhite, both Grammy award winners.
Therefore, the inimitable sound of harmonica will be presented on the festival stage by a true scholar in the field.