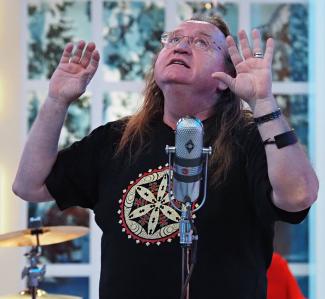 BLUES ARCHEOLOGY is a show reinvented for the first time in Brezoi, which brings on stage over 20 unusual instruments and offers the public the scent and flavor of the archaic, early blues.
Names like Big Bill Broonzy, Blind Blake, Robert Johnson, Ma Rainey, Leadbelly are the heroes of a stage story that Mike Godoroja will unvaill in 40 minutes of acoustic blues full of nostalgia and humor.
The sound of this show designed by Mike is surprising and at the same time appeal to the general public not necessarily specialized in blues.
The instruments, from the Tibian organ on the famous mellotron to the hurdy-gurdy, will paint a naughty musical scenario, rather being an imaginary cruise on a Mississippi passing through Brezoi.
Mike Godoroja communicates a personal emotion on stage in the context of a show-concept idea and not just a concert.
An evening with Mike Godoroja & Blue Spirit is magic. Mike not only sings the blues, but also "narrates" it in a play-like scenario, in which each spectator becomes a character and music a divine 'instrument'. 
After the experience with Balkanic Zeppelin, more and more chroniclers discovered a new Mike, whose vocal score has a high level of difficulty in the dynamic pieces, but especially in the emotional ballads.