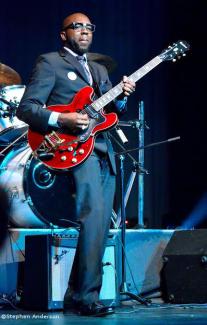 Malaco Recording Artist, Castro Coleman a-k-a Mr. Sipp, was born August 25, 1976 to Johnelle and the late Vera Coleman in the small town of McComb, MS. He began playing the guitar at the tender age of 6. Through hard work and perseverance, Mr. Sipp has become a Delta Blues Force to be reckoned with! Being recognized for his amazing vocals, songwriting ability, musicianship, ability to produce records and entertain Fans with an upbeat, outlandish show all make Mr. Sipp "The Total Package." Above all of that, Mr. Sipp is a God fearing family man. With over 125 recording credits to his name, Mr. Sipp has played on over 50 national recordings with several Grammy ® nominated projects. He is well traveled and ready to come to play for you and spread his great gift of music to the World.
​
​Mr. Sipp is the 2014 International Blues Challenge Winner by way of The Vicksburg Blues Society as well as the 2014 Gibson Best Guitarist Award Winner. The same year Castro was given the Bobby Rush Entertainer of the Year Award by the Jus' Blues Foundation. In 2015, he won several Jackson Music Awards including International Male Blues Artist, Blues Artist of the Year, and Entertainer of the year.
​
He was the BMA Best New Artist Album winner 2016 and The Spirit of Little Walter Award 2016. The same year, Castro was the first blues artist to have his handprint inducted into the Wall of Fame in Fredrikshavn Denmark. For the 25th Annual Living Blues Awards, he won the Best Blues Album of 2017 New Recordings award (Contemporary Blues) with "Knock a Hole In It," and in 2018 he won the National Blues Artist of The Year award at 44th Annual Jackson Music Awards.
​
In 2014, Mr. Sipp was cast in the James Brown movie, "Get on Up", in 2016 he was casted as the young B.B. King on three episodes of the CMT series "Sun Records" and in 2021 he was casted as a blues singer and musician in the movie "Texas Red" performing one of his original songs from his new album "Sippnotized" with special arrangements for the movie.
Mr. Sipp's favorite quote, "I'm living to love the life that I live, Music!!!!"
​
​Mr. Sipp spent more than 25 years in the Gospel Music Business as a Recording Artist and a Producer! Since his BIG WIN at The International Blues Challenge in 2014 and the release of his debut Blues CD, "It's My Guitar," the music community has been a Buzz and welcomed him with open arms! He fills venues, theaters and festivals all over the world with his second Malaco multi award winning album "The Mississippi Blues Child" (2015). ​In 2017, with "Knock a Hole In It' he shares his music all over the planet from France to Switzerland, Netherlands, Spain, Brazil, and USA... and in April 2021 he "Sippnotized" the world in the middle of the pandemic.
​
Going into 2023, Mr Sipp is a force to be reckoned with and one of THE Top performers on the Blues and Roots scene. A must for Festivals