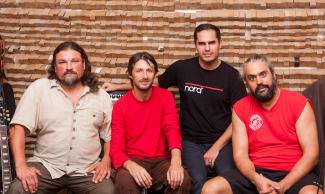 Farkas László, Farkas Szilámér, Borbély Szilárd and Gáspár Zsolt formed the band Quo Vadis in 1991 in Timisoara and started a year later in a trio formula, after Farkas Szilámér left the band. Their style is blues-rock with fusion influences.
Following the participation in the Top T Festival in Buzău, the well-received trio recorded a "split LP" with the band Floare Albastră, published by Electrecord. On the B-side of the vinyl released in 1995, they featured the songs Blind Shadow, Dusty Road Blues and Strange Affair.
Two years later, in 1997, Quo Vadis released the album Connect with me, recorded on tape at the Voxstar Studio B. The album has nine tracks and the lyrics are by Cosmin Ţiglar, Mirela Iacob, Zoltan Tours and the members of the band. In 2004, Gáspár Zsolt left Romania and was replaced by the guitarist Czifrák István and the vocal Nagy Bogdan. Later the band managed to perform concerts in France, Serbia and Hungary.
In 2016, Quo Vadis had a memorable concert with the occasion of the events dedicated to Hungarian Culture, in a new formula: Farkas László (guitar, voice, music), Borbély Szilárd (drums, percussion), Kiss Attila (bass guitar, voice) and Teodor Pop (keyboards). Successful participation in several festivals followed, such as Top T - Bluzău or Transilvania Blues Festival - Brașov.