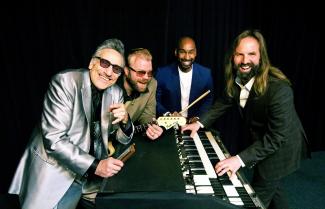 United States
CA
Sacramento
Rick Estrin & the Nightcats is an American electric blues band formed in 2008.
'Estrin is an amazing harmonica player, a soulful lead vocalist and a brilliant original songwriter. Estrin's harmonica sings alongside blues tunes that entertain audiences like no other in the genre.' - San Francisco Chronicle
Rick Estrin – harmonica, vocals
Rick Estrin was born in San Francisco, California in 1949. When he was 12, his older sister gave him a copy of Ray Charles' The Genius Sings The Blues, and he became infatuated with the music. Albums from Jimmy Reed, Champion Jack Dupree, Mose Allison, Nina Simone and others soon followed. By the time he was a teenager, Estrin had immersed himself in the urban, African-American culture surrounding him. He got his first harmonica at age 15, and by age 18 was proficient enough to begin sitting in at black clubs around the city. He first jammed with blues master Lowell Fulson and immediately was hired to open five shows for R&B giant Z.Z. Hill.
At 19, Estrin relocated to Chicago and worked with some of the city's best bluesmen. He met and jammed with the legendary Muddy Waters, who told Rick, 'You outta sight, boy! You got that sound! You play like a man!' Muddy wanted Estrin to go on the road with him, but Estrin missed Muddy's phone call, Estrin eventually moved back to the Bay Area, met guitarist Charlie Baty and formed Little Charlie & The Nightcats. With Charlie's retirement from touring in 2008, Rick brought in guitar virtuoso Kid Andersen and formed Rick Estrin & The Nightcats.
Estrin cites Sonny Boy Williamson II, Percy Mayfield and Detroit bluesman Baby Boy Warren as his major songwriting influences.