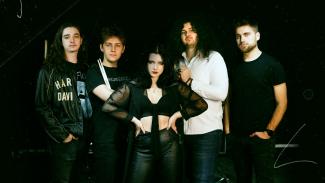 They were old time friends and the music was more than just a passion. The Voodoo
Child was formed in 2018 by lead guitarist Andrei Cerbu, bassist Robert Ciubotaru and drummer
Teodor Cusnir. They started playing blues with lead singer, Alexandra Dodoi and performed at all
the big blues festivals in Romania between 2018 and 2020. They made the first album called
"Some Kind Of Blues" and then they went on a tour all across Romania to promote it. They won
"The Best Newcomer of The Year" in 2018 and next year they won "The Confirmation of The
Year". Also they had an international tour which was cancelled because of the COVID‐19
Pandemic.
In 2021 Romina Apostol became the new lead singer of the band and they started to
play some live gigs in this formula. During the pandemic they started to work on their second
studio album and released some singles on YouTube and all the digital platforms. Romina
participated at Superstar Romania in 2021, where she won third place.