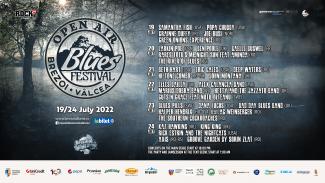 #BREZOIULLUMII (Brezoi of the world) is already a brand that unravels a whole universe, a phenomenon with deep individual and collective resonance. The new edition takes Open Air Blues Festival Brezoi even a step further, becoming the largest gathering of Blues artists and audiences ever hosted in Romania. A six-day long festival, featuring elite international headliners and so many surprises!
LINE-UP
Tuesday, 19 July, 18:00 - 01:00
Samantha Fish (USA)
Popa Chubby (USA)
Grainne Duffy (IRL)
Joe Rusi (NOR)
Green Onions Experience (RO)
 
Wednesday, 20 July, 18:00 - 01:00
Larkin Poe (USA)
Ben Poole (UK)
Gaelle Buswel (FR)
Rareș Totu's Midnight Sun feat Aminda (RO)
The River of blues (BG)
Thursday, 21 July, 18:00 - 01:00
Beth Hart (USA)
Eric Gales (USA)
Deep Waters (RO)
Hi-tone Combo (RO-NL)
John Montana (UK)
Friday, 22 July, 18:00 - 01:00
Elles Bailey (UK)
Alex Calancea band (MD)
Marius Dobra band (AT)
Hetty & The Jazzato band (UK)
Guts n Grace feat Nuțu Olteanu (SWE)
 
Saturday, 23 July, 18:00 - 01:00
Blues Pills (SWE)
Dana Fuchs (USA)
Bad Day Blues band (UK)
Halper Hendrix (HU-USA) feat. Ag weinberger (RO)
The Southern Cockroaches (RO)
Sunday, 24 July, 18:00 - 01:00
Kaz Hawkins (IRL)
King King (UK)
Rick Estrin and The Nightcats (USA)
Axis (RO - RS))
Groove Garden by Sorin Zlat (RO)
 
CLICK HERE FOR ACCOMMODATION AND TRANSPORT PACKAGES!
FREE ACCESS REQUIREMENTS
Festival and camping site access is free for children below the age of 13, accompanied by an adult ticket holder. Together we are raising the #bluesgeneration!

Festival and camping site access is free for anyone facing a disability condition, on the basis of their ID card and medical certificate.

C A M P I N G
Our first tent and trailer camping site is fully booked, so we are providing you with a second location – "Lotru Stadium Brezoi" Camping. It comes equipped with the same amenities as Summer Camp, in order to ensure your most comfortable vacation. The second camping location is centrally placed on the town map, in comparison to Summer Camp. The location is already familiar to 2018-2019 editions attendees.
Our advice is to book your camping passes a.s.a.p., there's a high level of demand and remaining available slots for Lotru Stadium Camp will sell out soon.
Tent and trailer camping slots are equipped with fences, 24/7 security, nocturnal lighting, toilets and showers, electrical outlets, free WiFi, sports court.
We are looking forward to welcoming you in our small natural, music universe of
#BrezoiulLumii!
Passionately organized by MENTOR ROCK Association, Aby Stage Events & Brezoi City Hall,
at LIVE MUSIC SUMMER CAMP BREZOI
Valea Satului street, 245500, Brezoi, Valcea County, Romania.