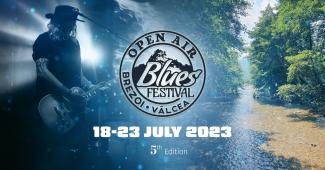 𝐎𝐩𝐞𝐧 𝐀𝐢𝐫 𝐁𝐥𝐮𝐞𝐬 𝐅𝐞𝐬𝐭𝐢𝐯𝐚𝐥 𝐁𝐫𝐞𝐳𝐨𝐢 Fifth Edition is sure to win over your hearts for good! The 2023 return to #BrezoiulLumii comes fully packed with the best talent that worldwide blues (and not only) has to offer. We already started to set things in motion, so make sure to mark your calendars early on, cause we'll have a lot to share with you about this NEW 6-day long blues music thrill ride!
Artists announced so far:
𝐖𝐚𝐥𝐭𝐞𝐫 𝐓𝐫𝐨𝐮𝐭 (USA) | 𝐁𝐞𝐭𝐡 𝐇𝐚𝐫𝐭 (USA) | 𝐒𝐮𝐠𝐚𝐫 𝐁𝐥𝐮𝐞 (USA) | 𝐄𝐫𝐢𝐜 𝐆𝐚𝐥𝐞𝐬 (USA)
| 𝐉𝐨𝐚𝐧𝐧𝐚 𝐂𝐨𝐧𝐧𝐨𝐫 (USA) | 𝐓𝐨𝐫𝐨𝐧𝐳𝐨 𝐂𝐚𝐧𝐧𝐨𝐧 (USA) | 𝐒𝐮𝐠𝐚𝐫𝐚𝐲 𝐑𝐚𝐲𝐟𝐨𝐫𝐝 (USA)
| 𝐍𝐢𝐤𝐤𝐢 𝐇𝐢𝐥𝐥 (USA) | 𝐊𝐚𝐳 𝐇𝐚𝐰𝐤𝐢𝐧𝐬 (IRL) | 𝐁𝐞𝐧 𝐏𝐨𝐨𝐥𝐞 (GBR) | 𝐓𝐡𝐞 𝐇𝐚𝐰𝐤𝐦𝐞𝐧 (GBR) | 𝐂𝐚𝐧𝐚𝐟 (ROU)
TICKETS: 𝐭𝐢𝐜𝐤𝐞𝐭𝐬 𝐚𝐫𝐞 𝐚𝐯𝐚𝐢𝐥𝐚𝐛𝐥𝐞 𝐚𝐭 𝐩𝐫𝐨𝐦𝐨𝐭𝐢𝐨𝐧𝐚𝐥 𝐩𝐫𝐢𝐜𝐞 on the iabilet.ro network.
 
FREE ACCESS:
Both festival and camping access is free for children under 13, accompanied by at least one adult ticket holder.
Access is free for attendees facing disability conditions, on the basis of their ID and disability certificate.
Camping: The camping areas for tents and caravans are fenced, guarded 24/24 hours, illuminated at night, equipped with toilets and showers, power stations, free WiFi, sports field and children's playground. Also, the camping area will have terraces where you could serve a meal or enjoy your favorite coffee and cocktails.
Passionately organized by MENTOR ROCK Association, Aby Stage Events & Brezoi City Hall.
18-23 July 2023
#TheStoryGoesOn #New&Improved #OABFB #FifthEdition #RoyalFive #AnniversaryEdition #ExquisitePerfomers