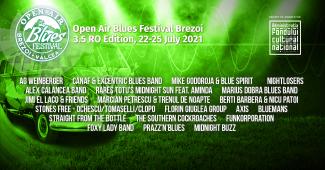 Dear friends,
The lack of concrete answers from the authorities forces us to postpone the Open Air Blues Festival Brezoi 4th Edition for the period July 19-24, 2022.
Instead, in 2021, we offer you an exceptional edition of the festival, only with Romanian artists.
Open Air Blues Festival Brezoi 3.5 RO Edition:
Thursday, July 22
Jimi El Laco & Friends
Bluemans
AXiS
Canaf & Excentric Blues Band
NIGHTLOSERS
Friday, July 23
PrazZ'n'Blues
FUNKorporation
Straight From The Bottle
Mike Godoroja & Blue Spirit
Rares Totu's Midnight Sun feat. said amide
Saturday, July 24
Midnight Buzz
The Southern Cockroaches
Marcian Petrescu & The Night Train
Marius Dobra Blues Band
Alex Calancea Band
Sunday, July 25
Foxy Lady Band
Berti Barbera & Nicu Patoi
Florin Giuglea Group
StonesFree - Ochescu / Tomaselli / Clopo
AG Weinberger
"The project does not necessarily represent the position of the National Cultural Fund Administration. AFCN is not responsible for the content of the project or how the project results can be used. They are entirely the responsibility of the beneficiary of the funding. "