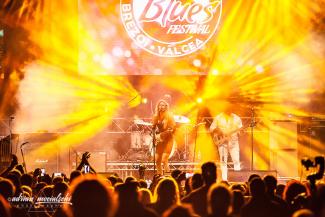 Our dearest,      
          Every July, for the past three years, we have gathered in Brezoi for the atmosphere and all the excitement that a music festival has to offer. Sadly, it seems that, from the last year's edition, we needed two years to get charged with the necessary energy for an unforgettable 4th edition of Open Air Blues Festival Brezoi.
          Due to the unpredictable circumstances caused by the Covid-19 epidemic, international restrictions regarding outdoor events, it is with great dismay that we are faced with the sad truth that we will not be able to organize the Open Air Blues Festival Brezoi in 2020. Because of restrictions imposed by the Romanian government will soon announce the official cancellation of all Summer Festivals in Romania, with a heavy heart, we regret to have to inform you that the 2020 Open Air Blues Festival Brezoi will be postponed for 2021.
         We know how important it is for you to know ahead of time how to replan your trip and accommodation.
          Therefore:
          The 2021 Festival will last for 6 days, instead of 4, from July 20th until July 25th, 2021.The FULL artist line-up for 2020 has been confirmed for July 2021. ALL artists and the confirmed schedule on the four days of the 2020 festival will be EXACTLY THE SAME in 2021, from July 22nd until July 25th, on Thursday, Friday, Saturday and Sunday.
          All festival and camping passes bought before May 31st, 2020 will be valid for the full July 20th – July 25th 2021 Open Air Brezoi Blues Festival. Those of you who have bought 2020 passes (before May 31st, 2020) but will be unable to participate in 2021, will have the opportunity to ask for a full refund from June 1st through June 30th, 2021. The refund offer is available only during the announced time frame (in June 2021) and it must be done through the ticketing operators you ordered the passes through.
          Open Air Blues Festival Brezoi means good music and true friends, getting together with old friends, making new friends, lots of fun and a relaxed atmosphere in a wonderful landscape by the Țurțudan hillside, surrounded by mountains. We can hardly wait to meet again in 2021 and celebrate to make up for the lost time. Don't forget, #BrezoiulLumii! (Brezoi World) is worth the wait. This festival depends on your SUPPORT!
          For more info about reorganization plan CLICK HERE.
          We appreciate your patience and support!
          Please take care!